BOOK DESCRIPTION: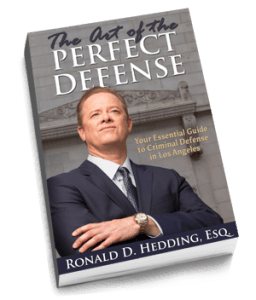 The ultimate justice of the people? Is there any better or equal hope in the world?—Abraham Lincoln
* Have you been bailed or cited out or released from custody?
* Do you have a criminal case pending against you?
* Have you been taken into custody?
* Are you the subject of a criminal investigation?
If so, your freedom and reputation are at risk. You are now charged with making decisions that could forever change your life.
In The Art of the Perfect Defense Ronald D. Hedding, Esq. provides essential information you need to navigate through Los Angeles's criminal justice system, which is one of the most complicated and largest in the United States. In this book, you'll learn:
* Common mistakes that could have tragic consequences and how to avoid them
* Steps you need to take right away to protect yourself
* What to do if someone you care about is the focus of a criminal investigation
* Why a criminal defense lawyer's local expertise is critical to a favorable outcome
* Straightforward explanations of key legal terms and concepts you must know
The Art of the Perfect Defense unlocks the mystery behind the Los Angeles criminal justice system. When you're facing a scary and uncertain future, this book will be your essential guide to experiencing the best possible result.
The book is available in print, Kindle and in a Spanish-language version.